La Table Tropézienne restaurant reflects the spirit of LA TARTE TROPÉZIENNE where you find a friendly, tasteful, family atmosphere… pure and simple !
Our talented head chef, Eric Santalucia, originally from Toulouse and former student of the Chef Alain Ducasse Cooking School for around ten years, invites you to experience an explosion of regional flavours reinvented in his own style.
Our chef offers a seasonal dish of the day as well as a creative menu giving a new take on the classics of French cuisine.
The authentic Tarte Tropézienne is a must-have dessert to end your meal.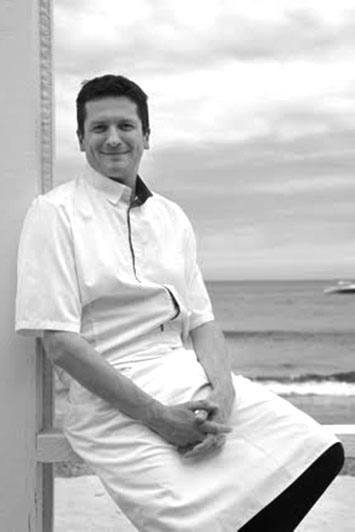 – 04 94 97 94 26 –
Beef carpaccio with pesto, green beans salad
« Charentais » melon, creamy burrata and raw ham
Garden tomatoes, mozzarella with pesto and olive soil*
Swordfish heart carpaccio style, stuffed zucchini blossoms and olive oil
Hot goat cheese salad with Lavender honey and speck chips*
Fresh tuna, salmon and avocado, mixed salad
Sucrine lettuce with poultry and anchovies «cromesquis», Caesar-style salad
Niçoise salad, tuna fillet from « José Peña », salad and poached egg*
Knife cut beef tartare, Cécina de Léon (Spanish delicatessen) and fresh French fries
Hand made pasta with pesto, candied tomatoes and mozzarella*
Chicken club sandwich by La Tarte Trop', wafer potatoes chips and young shoots
Burger Trop', coppa of Parma, fresh French fries and mixed salads
Fish and chips, crispy sea bass and vegetable chips
Squid stuffed with seasonal vegetables, risotto and Iberian chorizo
« Simmental » hanger steak, panisse and green beans
Handmade linguini with smocked salmon, cream and parmesan
Half-cooked tuna, zucchini blossoms with pesto
Fresh goat cheese, sucrine lettuce, dried bread
Selection of cheeses, mixed salad leaves with hazelnut oil
Selection of ice creams and sherbets, vanilla whipped cream
The Authentic Tarte Tropézienne and its ice cream
Homemade waffle, chocolat hazelnut, berries and Trop' cream
Coffee by La Tarte Tropézienne
Chocolate fudge cake « gluten free », vanilla ice cream
Fresh fruits salad with lemon sherbet
Pastries from our cake shop
Domaine de la Madrague – La Tarte Tropézienne®
Minuty – Prestige – 50 cl
Domaine de la Rouillère – Grande Réserve
Château barbeyrolles – Pétale de Rose
Domaine de la Giscle – Moulin de l'Isle
Minuty – Prestige – 50 cl
Jean Dauvissat – Saint-Pierre
Cos d'Estournel – Goulée blanc
Domaine de la Giscle – Moulin de l'Isle
Domaine Saint-Préfert – Clos beatus
Domaines ott – Château de Selle
Glasses of wine and Champagne
Wine of Provence Red/white/pink (12 cl)
6.00 € :

Glass of Champagne brut Roederer (10 cl)
13.00 € :

Glass of Champagne Rosé Roederer (10 cl)
15.00 € :

The alcohol abuse is dangerous to consume in moderation.